Creative director, animator, illustrator and self-proclaimed "creative kween" Zipeng Zhu is all about dazzle. His pieces are full of life, combining vivid colors with movement, typography and bold statements.
A big fan of breaking boundaries and merging mediums, Zipeng believes that creativity shouldn't be limited by disciplines. Whether designing an interior space, a branding project or an editorial piece, Zipeng adopts a unique multidisciplinary approach.
Along with his team at creative studio Dazzle, Zipeng has collaborated with clients ranging from Adidas to Adobe and more. Here's a closer look into Zipeng's practice, starting from his roots in China.
Growing up in a tropical heaven
Having been brought up in Shenzhen, a young city in the south of China, Zipeng's childhood was "filled with plants, fruits and endless amounts of vibrant colors." Somewhat different to his current-day urban surroundings in NYC, Zipeng describes his hometown and upbringing as being "a tropical heaven and home to the world's best lychee."
While his works today are refined and precise, their electric energy and striking use of color point to influences from his past. In fact, it will come as no surprise that the "peng" part of his name stands for "exuberant" in Mandarin and Cantonese - a seemingly perfect fit.
Striving to reflect his identity in every piece of work he creates, Zipeng feels that "as an immigrant in America, all I can do is to express myself to the fullest." His Instagram account is a true testament to that; posting daily, he shares works that are inspired by his experiences, covering current themes and events, from the all-too-familiar mask wearing dispute to Michelle Obama's recent speech.
When asked what he wants to convey through his work, Zipeng's answer is simple: "I want to make every day a razzle dazzle musical!"
Managing a design studio
While his personal projects are what keeps Zipeng's creative battery charged, he is also the founder and creative director of NYC-based creative studio, Dazzle. When it comes to clients, Zipeng and his team look for people who are just as passionate and daring as they are. "We also love to help people with the right causes," says Zipeng.
"I have a tremendous amount of trust in the people I hire, so I usually let them do what they do best, being their awesome selves"
Having worked at prestigious design firms - Pentagram and Sagmeister & Walsh - after graduating from The School of Visual Arts, Zipeng learned valuable lessons that gave him the experience and knowledge he needed to open his own studio.
Looking back at his days at Pentagram, Zipeng recalls that he learned how to work fast and think big, something that can be seen in his impressive list of clientele and the large scale quality of many of his works, such as the ones he's had posted on Times Square's huge digital billboards.
It was at Sagmeister & Walsh that he learned how to challenge limitations, as well as the importance of creating personal projects alongside client work.
In terms of leadership, Zipeng's approach is organic. "I have a tremendous amount of trust in the people I hire, so I usually let them do what they do best, being their awesome selves," Zipeng explains. "That being said, we constantly check up on each other and see how everyone is doing. During Covid, we have our webcam on most of the time so we can still get to chat and gossip with everybody."
Bringing dazzle wherever he goes
This fun, collaborative approach can also be seen in the studio's social media channels and website, created on Editor X. "Our social is about dazzling in every way," says Zipeng. "But our site shows how serious we are about dazzle!" With fullscreen animations, large typography and an unapologetically vibrant color palette, Dazzle's engaging portfolio website certainly achieves its goal.
Zipeng recently brought his signature bedazzle to a series of design master classes, sharing how to integrate professional design features into your website using Editor X.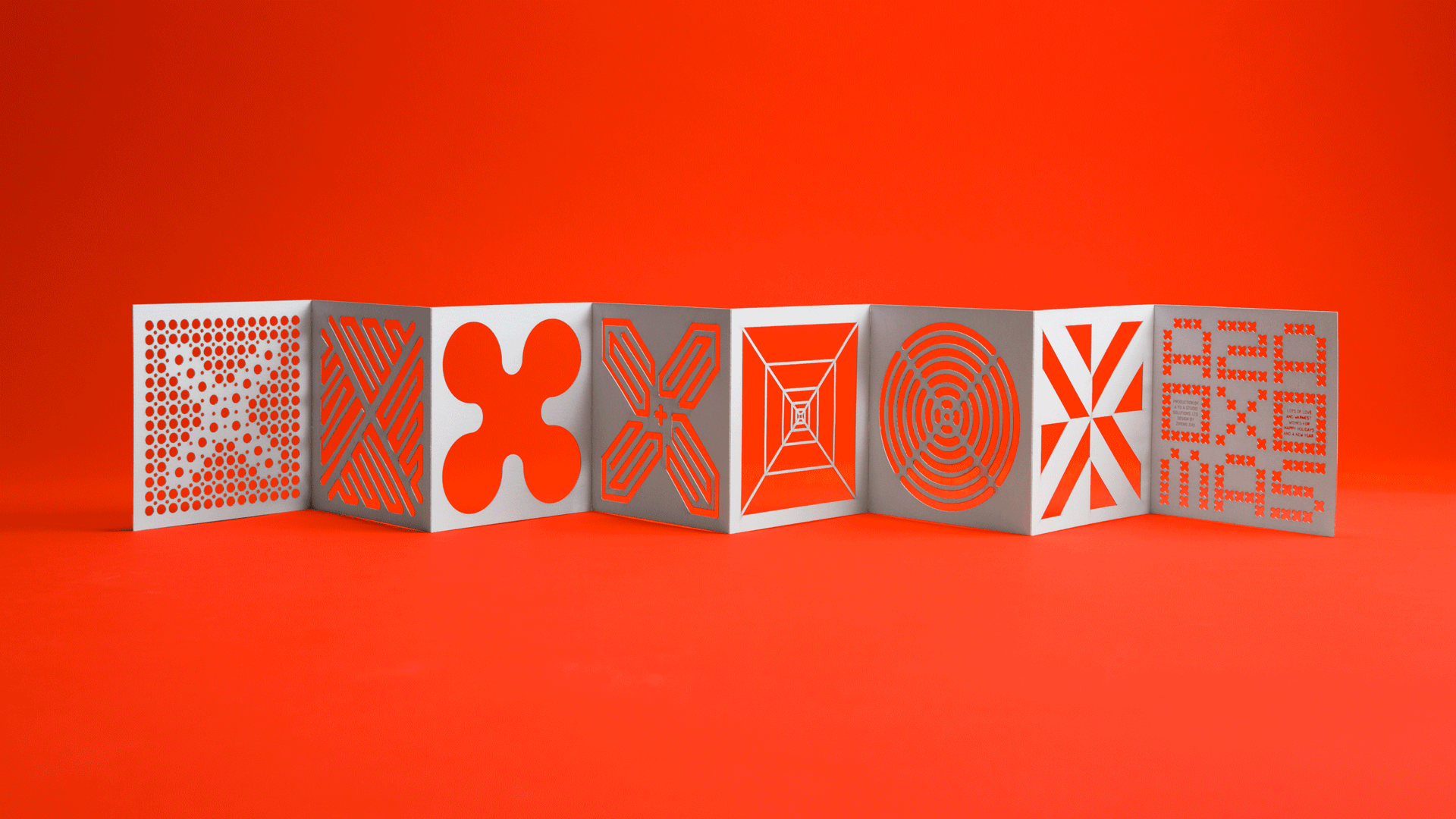 Holiday card design for A2A.
Cover designs for Garage magazine.
Type and packaging design for Novo Brazil Brewing Co.
Combat Covid posters in Times Square. Photos courtesy of TJ Witham.
Variable fonts created for Adidas.