Surreal, gravity-defying scenes and dreamy gradients make up many of art director and digital illustrator Daniel Aristizábal's works. His design studio, Lazy Eyes, acts as Dani's alter ego. It provides him with an experimental bubble, whereas the works he releases under his own name are more personal.
The Colombian-born artist has a distinct visual language, but is constantly exploring new ways to reflect all parts of his personality, from his quirkiness and eccentricity, to his interest in social and political subject matters. Dividing his time between Barcelona and his hometown Medellín, he draws inspiration from these two disparate cities.
Questioning your purpose
"The funny thing is that when I was growing up, I never thought this was going to be my path," recalls Dani. "I was much more interested in other areas: science, writing, history and making dumb jokes."
Despite his wide range of interests, he couldn't bring himself to focus on any of them. To his surprise, he ended up studying graphic design. "Design school was really frustrating. I didn't enjoy it one bit," says Dani. "But unbeknownst to me, all these experiences, feelings, sounds, flavors, breakups, travels and defeats were simmering inside of me and they finally came out once I moved to Spain."
Although he's come a long way since then, and has also worked with many big names, Dani still sees his visual style as a work-in-progress. "There is not a single day that I don't question the validity of what I do," he tells Shaping Design. "I'm very critical of my work and motivations, perhaps way too much. Social media pushes people to become a machine in order to be relevant, and that logic is really destructive in my opinion." Instead of putting his energies into creating what people want to see on social media, Dani focuses on aligning his work with his life vision.
"

I have been told that I'm a very eccentric person and, frankly, I agree. It's cool to be weird."
Living in an ultra egotistical world
Seeing Dani's works, you'd imagine a playful, energetic character behind them - and you probably wouldn't be too far from the truth. "I have been told that I'm a very eccentric person and, frankly, I agree. It's cool to be weird," says Dani.
While this aspect of his personality is boldly reflected in his works, there's another side to Dani that he is more recently starting to incorporate into his artistic endeavors. Dani sees himself as a very political individual who is constantly worrying about the future of all living creatures in what he describes as "this ultra egotistical world." Integrating this dimension into his work, he refers to this new style as social surrealism.
Dealing with change
Although he continues to create new pieces, Dani's initial plan for this year was to travel around Colombia and Asia to rejuvenate, get some rest, find inspiration and rid himself of any feelings of burnout.
Instead, the Covid-19 crisis has had him staying mostly in Medellín. "At first it was easy for me," says Dani. "But when the lockdown became a forced reality, it took a toll on my mental serenity." Fortunately, the commercial work he was doing helped him through.
Compared to Barcelona, Dani sees Medellín as a quiet, even boring, place. "Sometimes you need this dullness to let your over-excited brain rest and to feel close to home," he says. "Barcelona, on the other hand, is the place where I bloomed as an artist, where most of my friends live and where I feel this sense of being able to achieve whatever I set my mind to."
Dani's traveling plans weren't the only thing impacted by Covid-19. Having spent the past two years working on the design for an amusement park for the Museum of Ice Cream, he was recently informed that the project had to be canceled due to the epidemic.
"They wrote to me two years ago asking me to develop a concept for a pitch for an unnamed project," Dani recalls. "I agreed and sent my proposal a week later and they loved my idea, and two days later I was on a plane heading to New York."
This was Dani's first time working on such a large-scale project. Involved in everything from conception to design, production, material research and more, Dani describes this period as one of the happiest of his life. He recalls that he went from not knowing what he wanted to do with his life, to designing a monumental and ultra technological experience in the middle of Los Angeles. "The team at MOIC is fantastic and I hold them dear to my heart," says Dani.
Exploring new realms
These days, Dani is looking to bring his art into the world of video games, for both VR and other diverse platforms. Collaborating with his friend, Beto, they plan on launching an indie game next year.
For Dani, virtual reality is a way of bringing your art one step closer to reality. The way he sees it, "you have one foot here and another foot in a dream." His advice for breaking into this field is to "get a team of collaborators that you can rely on, study like crazy and don't let trends dictate the motives of your work."
Having partnered with many musicians in the past - designing for video clips or album art - Dani also finds that the music industry offers interesting opportunities. "Working in this field gives you the possibility to explore and to create much more daring art pieces," he says.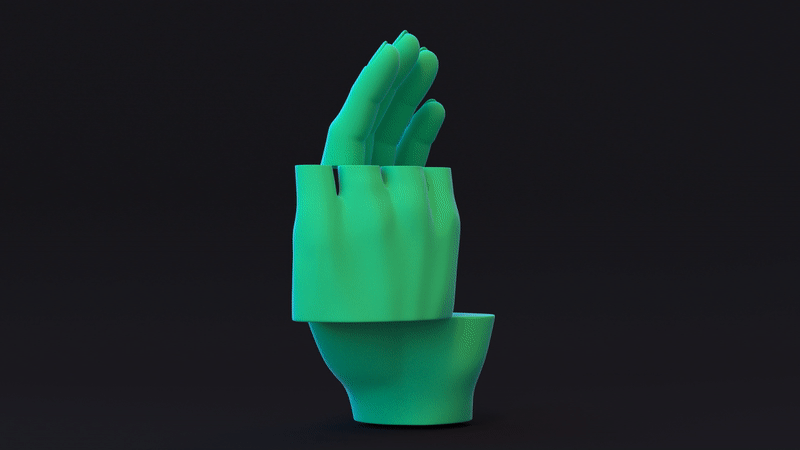 From digital tools to surreal masterpieces
While Dani is an expert in digital design tools, his projects tend to start with a notebook and pen. He approaches each new brief with a series of doodles, jotting down any phrases that pop into his mind. "I let them sit for a few days and then come back and try to piece together a coherent proposal from these messy sketches," he explains. "It's basically surrealist automatism with a dash of 3D."
His go-to tool is Cinema 4D, but he also uses Substance Painter, Marvelous, ZBrush and 3D Coat. He's now learning Houdini, a complex tool that Dani describes as giving you a "perpetual sense of awe."
In addition to these programs, Dani recently brought his vast technical knowledge to Editor X, with a series of design master classes where he explains how to create impressive, interactive elements on your website. He thinks of his portfolio website as a professional tool that helps him stay grounded. "I can go a bit crazy sometimes, and having such a nice website helps me balance this."